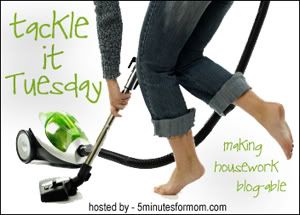 So, yesterday I ran in to some posts for Tackle It Tuesday at
5 Minutes for Mom
....and thought, "I need that!" Click on the image to find other's Tackle it Tuesday posts. I try to keep our house reasonably clean, but I am constantly fighting a battle to be more organized and conquer clutter.
My laundry room is one of my worst
hot spots
. Everyone (including me) takes stuff out and doesn't want to run it upstairs so, on top of the machines it goes. Let me tell you, the mountain can reach unbelievable heights! So for today I decided to tackle it before it gets too out of hand.
I ran all the clean clothes upstairs, ironed the stuff that needed to be ironed and washed the dirty stuff that was waiting on the floor (nice system we have there, huh?). The last load is spinning as I write. I even wiped down the appliances and the shelf and cabinet above. Those wicker baskets are full of socks waiting to be matched, but that will have to wait another day.
If you haven't seen the befores and afters of our laundry/powder room, they are
here
. See, sometimes blogs do show you the yucky stuff!