For "Tackle It Tuesday" I'm still working on our bedroom. These things always take longer than you think they will. But here is a peek at how it's going. This is the top of my hubby's dresser. As you can see we will be having more of a shabby cottage look (I hope) than true shabby chic. My furniture has great shapes that would look adorable painted white, but like
Jan
, I can't bring myself to do that....it's really nicely finished, good quality oak. So I'm going with the wood with some white accents. Like this great vintage beveled mirror. I've had it a long time and it has the perfect, authentic worn finish.
I love the color. It's a Dutch Boy color from walmart called Little Bluebird....I like Ace's paint better though, so I had them color match it.
One of the great things about redoing a room is getting all the clutter cleaned out. When I was cleaning under the bed I found this cross stitch floral. Maybe I knew I was going to go shabby chic one of these days. Isn't it pretty? There were two and I sold one. What was I thinking?! If I had two I could hang the pair over the bed.
There is
nothing
under our bed now. Hallelujah! I threw away several big bags of stuff.
See, wouldn't that bed be pretty painted white? Well it's not going to happen. I'll just have to keep tweaking until I get perfect cottage look....with some wood. After all, most of the old lake cottages I've been in have a mixture of wood and painted furniture, so surely I can make it work.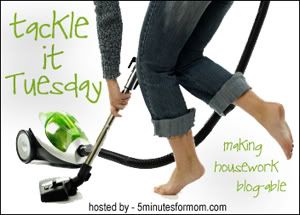 For more Tackle It Tueday posts click
here
.