The weekend I went to the
auction
, I also went to another auction where I only bought two things. One of them was this vintage quilt...it's the perfect light and bright quilt I was looking for for our room. I tried it on our bed, but decided that the Rachel Ashwell quilt would probably hold up to washings better. I hadn't figured out what to put over our bed, so I hung the vintage quilt there. I just put up a rod from Walmart and used some curtain clips I already had to hang it. It seems like a pretty good way to hang it since I put a lot of clips across there to distribute the weight. I did it tonight....Hubby is working some weird hours so he's sleeping during the day.
You can click on the image to see it larger. The quilt has a wonderful appliqué border and such pretty prints. It also has some red in it...though I didn't catch any in this shot. I love red and pretty much every room has at least a little red.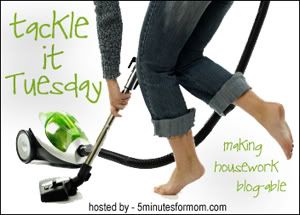 To see more Tackle It Tuesday projects click
here
.